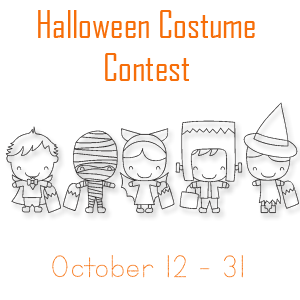 *Scroll below to see details about the Halloween Costume Contest*
I wasn't always into Halloween and dressing up but ever since I've had Kiggster, it's made me motivated to become more creative with costumes and even dress up a little myself.  Her first year we dressed her up as a ladybug and I made her whole costume from the wings, tutu, and the trick-or-treat bag.
Then her second year, we did 2 outfits because I couldn't resist.  I have to admit, I got both outfits on the cheap and didn't make them myself but she looked darn cute!  She was a cute witch by day and a blooming flower by night.  I did coordinate all our "costumes" for the flower costume.  I was the bug, Kiggster was the flower, and Honey was the gardener…hence the water bucket!
This year, Kiggster has asked to be Princess Sophia and a bat!  I have got my hands full putting those 2 costumes together.  I will post an update once they are completed and she has modeled them both!  So with that, I'm happy to present to you all the 2nd Annual Halloween Costume contest to give you all some inspiration!