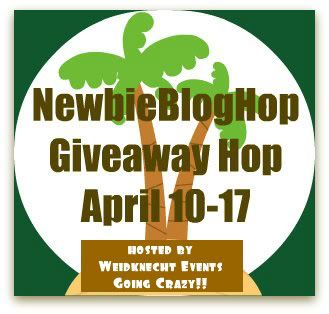 This Giveaway Hop is hosted by GoingCrazy!!WannaGo??!! and Planet Weidknecht and is open to you from April 10 to April 17. Over 100 blogs (Newbies and those AWESOME bloggers who LOVE Newbies) have gathered together and each of us are hosting a giveaway of at least $15 for you!!Now, let's get to hopping and winning!!!
So those who know me well or have attended some parties that I've hosted know that I have a thing for labels. I have this silver tray that has the labels "Hot Cups" and "Cold Cups" and other parties where I've had all the food being served labelled with what they are, just in case anyone has food allergies. No, I'm not super organized, I just dream of being someone who is but I'm simply just a woman who loves labels! So I jumped at the chance to be able to do a review for Lovable Labels' Ultimate Camp Pack! The Ultimate Camp Pack, which retails at $44.95, is available in 12 different designs and colors, along with 45 different icons. I chose the Nature Lover design, which consists of frogs, flowers, ladybugs, fish, butterflies, and bees. The pack includes:
15 Sticker Labels
40 Slimline Labels
12 Shoe Labels
72 Press n' Stick Clothing DOTS™
2 Mini-Metal Tags

(two 4" silver ball chains included)

12 Square Labels
The ones that I've been using so far are the slimline labels, which I love. They're not too big and seem to be the perfect size for all of Kiggster's containers and cups. These labels are waterproof so are supposed to withstand the uses of a dishwasher, microwave, peel & stick, and are waterproof. I was surprised that even after unpeeling and re-labeling the same sticker 4 times, it still stuck like new, the label didn't warp, rip, or lose it's stickiness. I usually hand wash all of Kiggster's items so even after using a scrub brush on the items with the labels, the labels still looked like new and haven't fallen off yet! I actually also really liked the mini-metal tags that came with the pack-they were super cute and they were one of those items I didn't think I needed until I got them. I realize that I can tag Kiggster's diaper bags, cooler bag, lunch bag…any of the bags where stickers are a little harder to notice than a nice metal tag! Mine were the cute lady bug design with her name!
I love that I can label virtually anything of Kiggster's and know that the chances of something being lost and never found again has now been minimized. Now I want to get some labels with our last name so that I can label all our items before hitting a potluck…I always seem to lose something at those potlucks because someone "forgets" who it was for or "accidently" walks away with my beautiful dishes/serving utensils! I have to question those accidental stealing incidents but with labels, hopefully those could be minimized too!
Lovable Labels has graciously offered 1 Kangaroo Mama fan (US/CAN only and winner must be 18 and over) the chance to win their very own Ultimate Camp Pack! Winner will be able to choose their own design or color theme and of course, customize to their name of choice! You can enter below through Rafflecopter! Good Luck and don't forget to enter the previous giveaways from my week-long event, you don't want to miss out on all the great prizes! You can go to the Giveaways tab for the latest prizes or even the ones you missed-4 of them are ending on 4/12/12! a Rafflecopter giveaway
Kangaroo Mama was provided the product for free from the sponsor company for review but the opinions stated in this posting are completely my own honest opinion and not influenced by the sponsor company. Prize and shipping is the responsibility of the sponsor company.