Welcome to Day 7 of Kangaroo Mama's Housewarming Party Giveaway Week!
So for our final giveaway (I know it was supposed to be tomorrow but one of the vendors had to be removed unexpectedly but our other amazing vendors will more than make up for it), you will looooove it! You've heard me rave about them, use them, and buy more from them so I present to you…SnazzieDrawers!
SnazzieDrawers offers boutique PDF sewing patterns and tutorials for beginners with step by step instructions on how to make your own flowers, headbands, fascinators, and couture boutique style children's clothing with a touch of vintage inspiration.
I do believe I own the whole collection from SnazzieDrawers (although, I might have missed one or two of her recent ones) and I love making stuff from her tutorials. There are tons of pictures and great descriptions as you're following along. There are no-sew tutorials listed on her website, which was great for me because I don't know how to sew (still can't call myself a sewer until I can sew a straight line)! I know, weird that I would buy all her tutorials, including the sewing ones, when I don't know how to sew but hey, a girl can have goals and something to shoot towards, right?! I have loved the projects that I've made using her tutorials and even trying to get creative and make them my own. The great thing about a lot of her flowers is that once you learn to make them, you can use them in almost about anything: pining it to a hat, embellishing a lamp, making a wreath, necklace, headband…it's limitless! The flower tutorials aren't just for kids because I have to say, as an adult, I love wearing them too and they can be made for adults! I couldn't get myself to pay $50+ for one headband at a store when I can just purchase one of the SnazzieDrawers tutorials for $7.50 (cheaper if you buy them as a package or the whole collection) and make a dozens of them! So that's exactly what I did!
My passion with pattern design is to make beautiful designs that are easy enough for complete beginners and interesting enough for the most advanced seamstress. I create all of my patterns hoping that I will be able to inspire someone else out there to find the joy and happiness that I have discovered making things for my babies and others to enjoy. ~Joy @ SnazzieDrawers
If you've been following my blog for awhile now, you know I love to ask tons of questions so great customer service is key to me! That's what I love about SnazzieDrawers, Joy is quick to respond via email, Facebook, and even her other fans are great about giving you ideas, troubleshooting, and sometimes just encouraging you when you feel like your project came out lookin' like crap! So the first 2 things I made, you can see descriptions and pictures on my Mama-Made posting but here is one of the flowers:
Then SnazzieDrawers also has some free tutorials that she offers to everyone. Which I am so glad about because it's really nice to see a vendor offer something for free every now and then and it helps you see what their style of writing, picture quality in the tutorials, etc is like! You can see more pictures of the rolled flower headband I made for one of Kiggster's BFFs in the Yellow Balloon posting-towards the bottom of the post and includes the link to the free tutorial)!
Then I am not sure what possessed me but I decided I wanted to make Kiggster her dress for her 1st birthday…even though I had never touched a sewing machine or owned one at that point! I guess I needed to set a goal for myself to learn it! I did get lots of help though on the dress from my mom and taking a quick course (wasn't the greatest) so if it was me doing all self-learning, the dress would have ended up looking like Cinderella's dress after her step-sisters go a hold of it! Good thing for help because I think it turned out great and Joy at SnazzieDrawers even helped me with what type of fabric to choose, etc. I even ended up making her a matching headband out of the fabric scraps and I think they both turned out great. You can see more pictures and descriptions from her 1st Birthday Party Part 1 and 1st Birthday Party Part 2 postings.
Then I started making things as gifts for others for baby showers, Christmas, and birthdays. Although, all the pictures you'll see in my blog seem to be for kids, I promise, I have made stuff for adults. However, despite my pleas for pictures, no one has sent me a picture of them wearing the headbands/pins that I've made for them (ahem, yes, that's you gals Tina, Jessica, and Kelly)! I need to stop being such a procrastinator and make them ahead of time so I can photograph them too rather than finishing them in the car on the way to a party (bad girl, I know)! But here is a headband I made for a baby shower that you can see pictures and descriptions of on my Chatty Kathy posting:
One of the newer tutorials that SnazzieDrawers released was their Broadway Hat and I love it! I want to make a million of them but have only made one so far. We had Kiggster wear it during New Year's Eve and you can read about my choice of fabrics/materials in the Happy New Year posting:
So you wanna see the professional photos from SnazzieDrawers?! Don't say I didn't warn you, they're uber-cute!
Addison Pettiromper & Isabella Flower Headband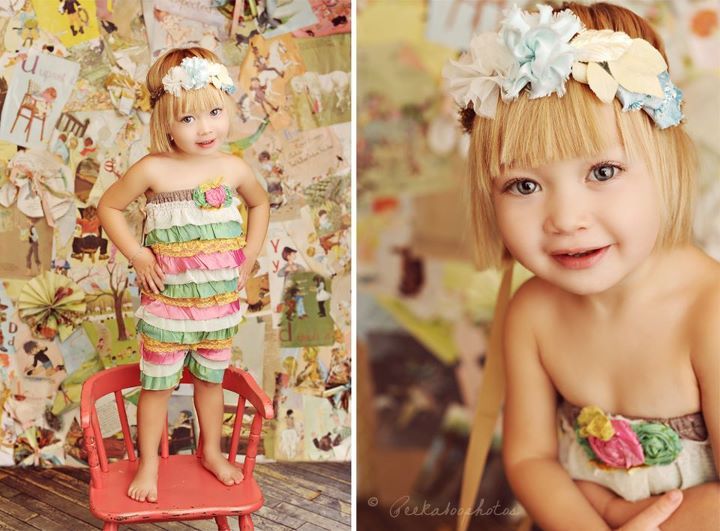 Kennedy Rose & Stella Pleated Headband
Duchess Vaya Couture Bib Necklace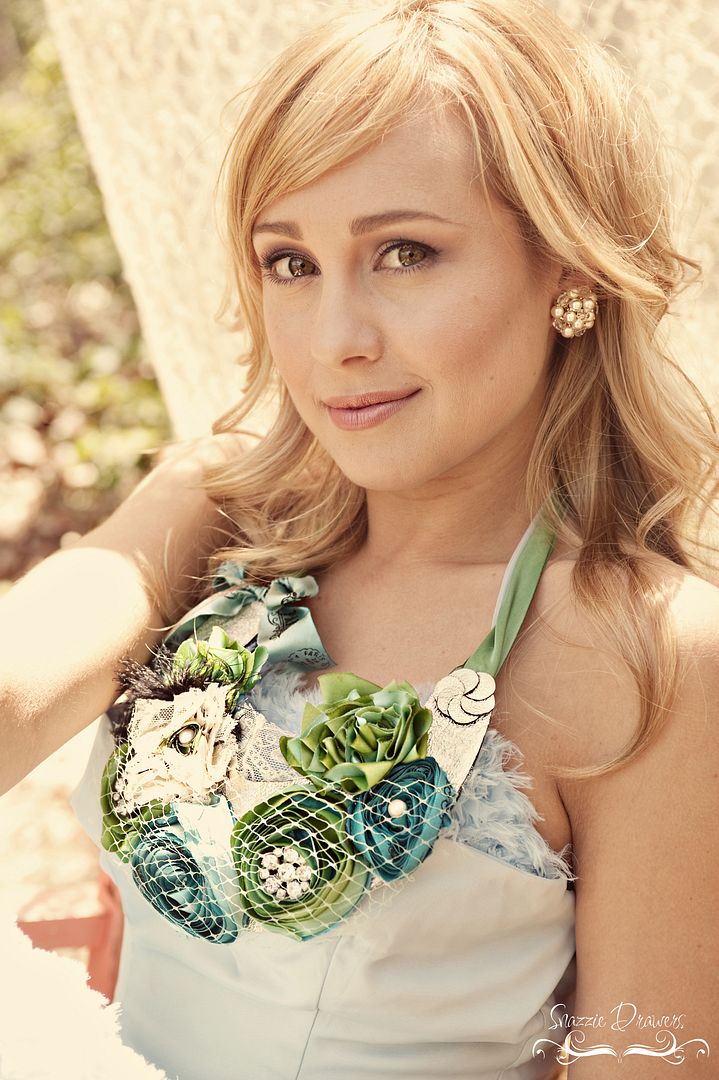 La Rue Royale Apron & Lucia Bella Pantaloons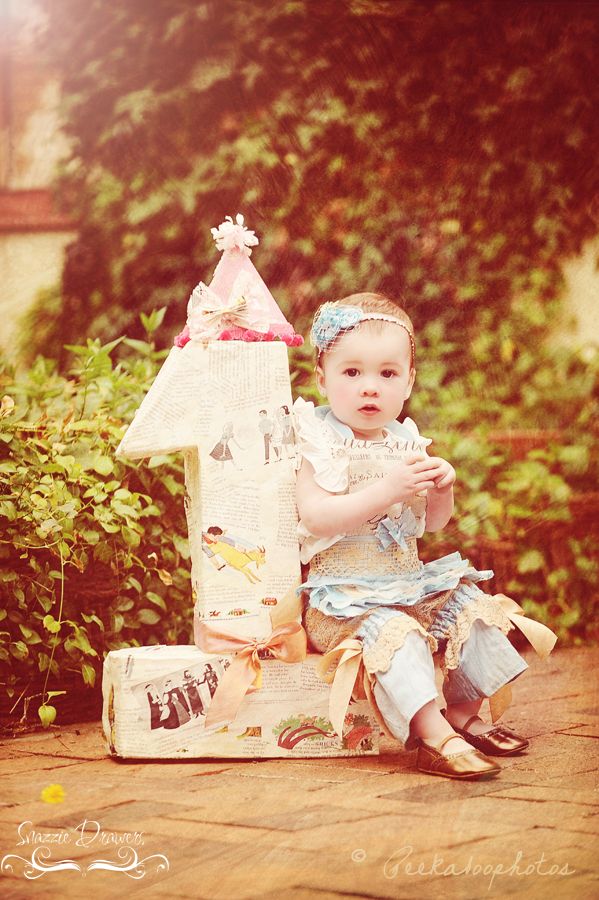 Ok, are you officially drooling over these tutorials?! I told you they were uber-cute and not just for babies but I mean I was wanting them for myself too! Soon I will be making that Duchess Vaya necklace for myself, though I know another SnazzieDrawers fan made it for her daughter who was several months old too! You want to own some of your own?! How about win some too?! SnazzieDrawers was awesome enough to offer 1 Kangaroo Mama fan a chance to win $50 SnazzieDrawers store credit to use towards their purchase of tutorials. You will get them right away via email as downloadable PDFs (there's a MAC version too)! But if you're like me, you may already see some you don't want to wait for so you can always purchase them through SnazzieDrawers website and use the following coupon codes (taken from her website) towards your purchase but note that a pattern package counts as 1 item. She is currently also taking orders on her website for those of you who don't want to attempt the more advanced sewing projects and would like to order one handmade by Joy (she doesn't offer this all the time so if you want her to sew for you, now is the time)! Enter below through Rafflecopter for your chance to win some SnazzieDrawers store credit! Good Luck and don't forget to enter the previous giveaways from my week-long event, you don't want to miss out on all the great prizes! You can go to the Giveaways tab for the latest prizes or even the ones you missed-4 of them are still going on! Giveaway is being extended until April 13th!
| | | |
| --- | --- | --- |
| Choose any… | Discount | Discount Code |
| 3 Items | 15% | save15 |
| 5 Items | 20% | save20 |
| 8 Items | 25% | save25 |
| 12 Items | 30% | save30 |